Your Opportunity for a long-term Career in Germany
Unlock your Career with the Blue Card Germany
Are you a highly skilled professional looking for a new challenge in Germany? Do you want to work in one of the most innovative and dynamic economies in Europe? Do you want to enjoy the benefits of a high standard of living, social security and cultural diversity? If you answered yes to any of these questions, then you might be interested in applying for a Blue Card Germany.
A Blue Card is a special type of residence permit that allows qualified professionals from non-EU countries to live and work in Germany. It is based on the EU Blue Card scheme, which aims to attract and retain talent from around the world. We will explain what a Blue Card Germany is, how it works, what the conditions are, what the advantages are and why you should consider moving to Germany with a Blue Card through Acaluna. Let's start!
A Blue Card Germany is a residence permit that grants you the right to live and work in Germany for up to four years. It is issued by the German authorities after you have found a suitable job offer that matches your qualifications and meets the salary requirements. You can apply for a Blue Card Germany either from your home country or from within Germany if you already have a valid visa.
A Blue Card Germany is not only a residence permit, but also a pathway to permanent residency and citizenship. After 21 months of working in Germany with a Blue Card, you can apply for a permanent residence permit if you have sufficient knowledge of the German language (level B1). After 33 months, you can apply for permanent residency regardless of your language skills. After eight years of living in Germany, you can apply for German citizenship if you meet the other criteria.
How does the Blue Card work?
To apply for a Blue Card you need to meet the following criteria: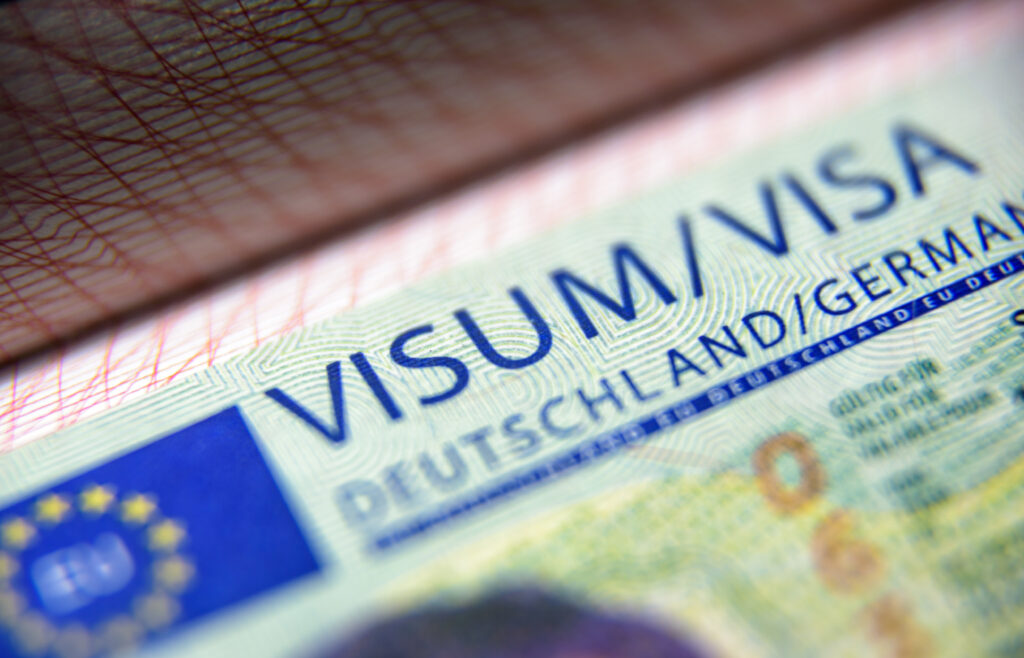 Which jobs can apply for a Blue Card?
Generally, the Blue Card is designed for international professionals with an academic education. Therefore, jobs that require an university degree are generally eligible. If you meet the salary threshold, any job with an academic background can be eligible for the Blue Card.
Typical jobs are: 
Mathematicians
Civil engineers
Mechanical engineers
Engineers in the field of electrical engineering
Chemical engineers
Other engineers
Chemists
Biologists
Doctors
Nurses with an academic degree
IT-specialists 
System analysts
Software developer
Web and multimedia developer
Application programmers
Database and networking professionals
Database developers and administrators
System administrators
A Blue Card Germany offers you many benefits as an international professional in Germany. Here are some of them:
Why should you move to Germany with a Blue Card?
Germany is one of the most attractive destinations for international professionals in Europe and beyond. Here are some reasons why you should consider moving to Germany with a Blue Card:
Germany has a strong and stable economy that offers many job opportunities in various sectors and industries. It is especially known for its excellence in engineering, manufacturing, research and innovation.
Germany has a high standard of living that includes a good infrastructure, a clean environment, a rich culture and a diverse society. It is also centrally located in Europe and has many scenic and historic attractions to explore.
Germany has a welcoming and supportive attitude towards immigrants and values their contributions to the society and the economy. It also has a well-developed integration system that helps newcomers to settle in and feel at home.
At Acaluna, we are specialized in helping international professionals like you secure the Blue Card and find the perfect job opportunity in Germany. Our dedicated team of experts will guide you through the entire process, from document preparation to job placement. We are working with German companies that are looking for international talents. If you apply with us we will review your application and match your profile with job proposals. Click here to find out more about us.
Do you have an academic degree and are willing to start your Career in Germany? 
Frequently asked Questions
Still have questions about the Blue Card? Check out our FAQ section to find answers to common queries.